Born in the foothills of Coshocton County, Trevor grew up on his parent's horse farm just outside of Plainfield, Ohio. His older brother had been competing in high school rodeos, riding bulls and broncs. Trevor was too young to compete at the time, so he would tag along with his brother to the rodeos to watch him compete. The rodeo lifestyle instantly began to course through his veins. Then his mother introduced him to a short piece of rope, called a piggin' string. She managed to create a small, spinning flat loop that caught his eye. Who knew that, at that moment, a trick roping career would transpire.
One Christmas, his parents gave Trevor a black and white movie, called "The Ropin' Fool" starring the infamous trick roper, Will Rogers. He began teaching himself numerous tricks just from watching Will Rogers on the film. Within a couple years, Trevor was performing his very first trick roping show at the local Coshocton County Fair. Soon after, he was performing at high school football game halftime shows, trick roping and singing in show choir performances, local theaters, fairs and festivals, and at school assemblies all across the state of Ohio. Before long, he was singing the National Anthem and trick roping at rodeos in Ohio, Indiana, and Pennsylvania.
Immediately after his high school graduation, Trevor was invited to join Don Anderson's Texas White Horse Troupe wild west show for their summer tour of the United States. In time, Trevor had proven himself to not only be their trick roper, but he was also singing the National Anthem and became their official master of ceremonies. This show gave him national exposure and he soon was singing and trick roping in rodeos, county and state fairs, and festivals from coast to coast and even Canada.
The young cowboy always knew from an early age that he wanted to entertain on stage in front of live audiences. His ultimate goal was to land a recording contract in Nashville, Tennessee. So he and his oldest brother decided to start a country band to sing and play music for local venues in their hometown area. His brother, already an established songwriter, taught him songwriting technique. Before long, they had co-written a song together that is Trevor's very first single release called, Slide and ride.
In 1995, while on tour with the Texas White Horse Troupe show, Trevor competed in the Wild West Arts Club National Convention in Scottsdale, Arizona for western entertainment, and walked away with Trick Roper of the Year!
In 1996, Trevor landed a permanent spot at a major dinner show in Central Florida called Wild Bill's Wild West Dinner Extravaganza, where he spent the next 5 years performing 2 shows nightly, seven nights a week. He then spent three summers in Lake Tahoe, Nevada performing at The Ponderosa Ranch western theme park, home of TV's famous "Bonanza".
He also spent three summers at Universal Studios Orlando, performing at the Wild, Wild, Wild West Stunt Show as their opening act. Trevor also opened for country stars, Andy Griggs, Collin Raye, and Diamond Rio at Sea World Orlando.
In 2000, Trevor was featured as the halftime show for a NBA Houston Rockets and Dallas Mavericks basketball game at Houston's Compaq Center in front 16,000+ fans. He also performed for the official NFL Super Bowl XXXV Pre-game Party in 2001. He was even featured in a national television commercial for ESPN SportsCenter.
He has appeared at numerous nightclubs, such as Nashville's infamous Wildhorse Saloon, also in Orlando, as the curtain raising act for LeAnn Rimes, Bryan White, Mark Chesnutt, Sons of the Desert, and the Grand Old Opry star, Jack Greene at The Nashville Nightlife.
In 2001, The Walt Disney World Company invited Trevor to become part of their entertainment family in Mickey's Backyard BBQ Dinner Show at Fort Wilderness Resort and Campground, where he spent 18 years as the featured specialty act in front of countless sold-out audiences…until it permanently closed at the end of 2018.
Trevor has entertained at numerous corporate conventions from coast to coast, including General Motors, Sally's Beauty Supply, Party Lite Candles, (which was in attendance of 14,000+) and even McDonald's.
Trevor is proud to be a small part of Austin Anderson's, Texas Trick Riders wild west show. In 2007, they performed for a "standing room only" show at the Minnesota State Fair. (Picture right)
In 2013, the Texas Trick Riders performed 56 wild west shows within 29 days at Silver Dollar City theme park in Branson, Missouri.
In 2015, he and The Texas Trick Riders appeared at the Permian Basin Fair in Odessa, Texas.
In November 2019, you can catch The Texas Trick Riders in West Springfield, Massachusetts at the Equine Affaire.
March of 2019, you could find Trevor performing at the prestigious Mar-a-lago Presidential retreat in Palm Beach, Florida for the Trumpettes as well as President Trump's family and close friends.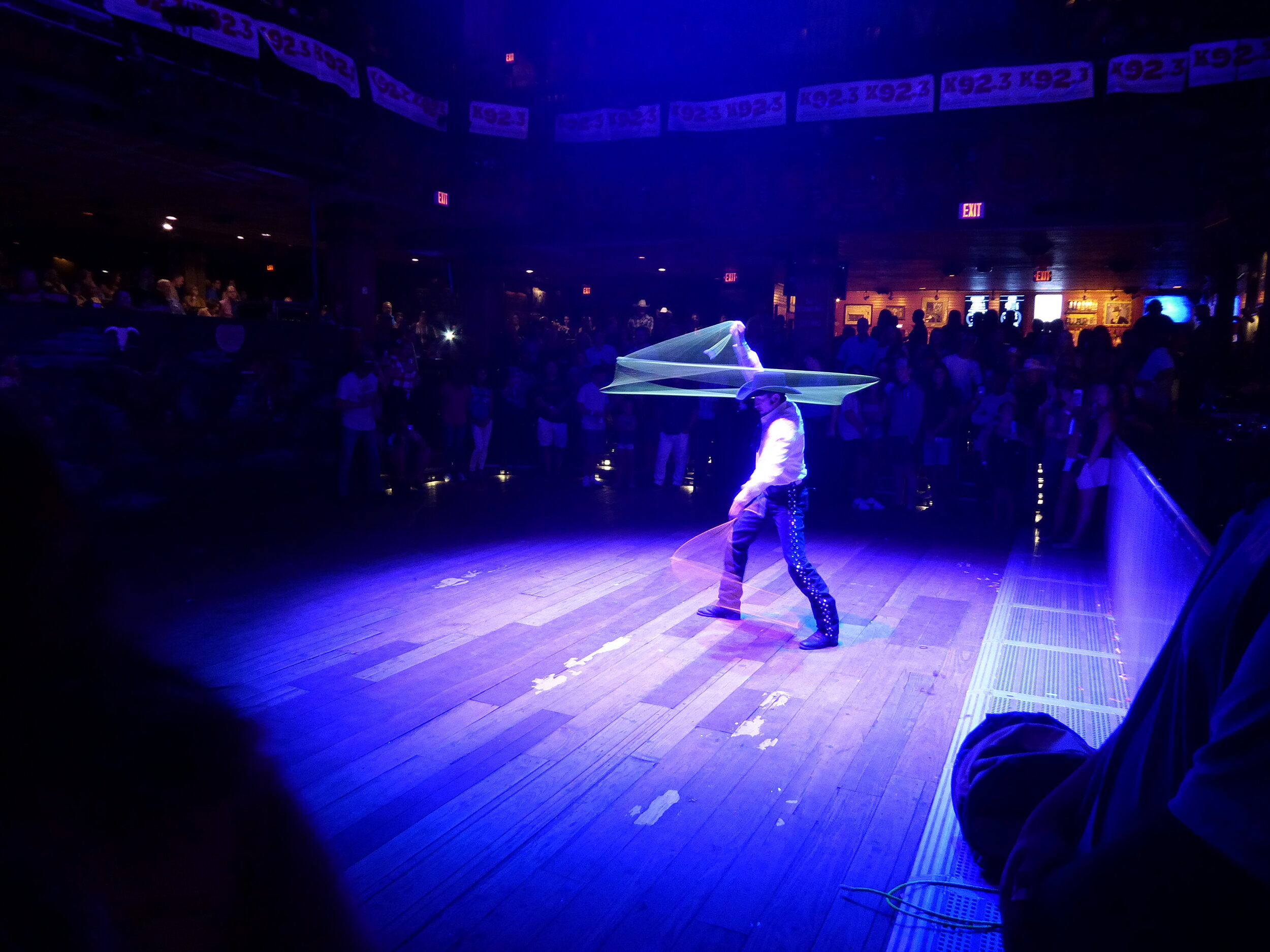 In June of 2019, Trevor was thrilled to be invited to perform at the House of Blues Orlando at Disney Springs!
Hoping to someday be honored in the ProRodeo Hall of Fame, Trevor was so proud to be asked to perform at this year's 40th anniversary celebration and induction festivities in Colorado Springs, Colorado. (AUGUST 6, 1979-2019)
current on-going shows in central florida
Trevor and his 6-piece band have been bringing their country music show on board the ever-popular Victory Casino Cruises out of Cape Canaveral, Florida for the past 4 years. For the Victory schedule, visit www.VictoryCasinoCruises.com or call 1-855-GO-VICTORY, or check back here on Trevor's official website.
As featured on Spectrum News 13's "Florida on a tankful"
Be sure to catch Trevor's award-winning trick rope show at Suhl's Rodeo in Kissimmee, Florida on Friday nights through 2019.
Immediately after each rodeo performance, come dance the night away inside the Catch Pen Saloon as The Trevor Dreher Band sings some of your favorite "old school" country classics from the 70's, 80's and 90's!
To catch one of Trevor's upcoming shows, be sure to visit his "SHOW SCHEDULE" page and RSVP right away!